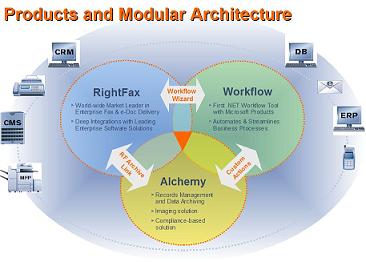 Alchemy 8.0 was developed to address these key issues, by providing a fully-integrated.
Fixed Content Management suite to provide organizations with one software solution and one repository for all their fixed content needs.
Fixed content management is a new term that embraces 'enterprise content' in its final (fixed) form. According to ECM industry analysts, most enterprise content exists as fixed content such as images, email, PDFs and COLD/ERM.
The Alchemy 8.0 product suite handles multiple types of content, and manages the content through the information life-cycle management (ILM) stages –including capture, workflow, document management, archive, records management, retrieval, and distribution.
Ideal for midmarket companies, the solution provides a far lower cost of ownership than enterprise content management solutions.
Business Benefits
Provides a common fixed content environment.
For capturing and managing a wide range of fixed content management types. Contributes to improved customer service and operational efficiency. Helps customer service representatives resolve customer inquiries more quickly, giving them online access to the same documents that customers may be referencing.
Reduces risk.
Helps in business continuity as well as records management and compliance. Supports rules-based capture and retention of all fixed content types, including e-mail. Makes it easier to discover and produce information as required for litigation or audit purposes.
Simplifies the distribution of client information.
Makes great sense for organizations to easily consolidate documents from multiple systems and distribute them in multiple formats, including web and CD or DVD distribution.
Saves money. By reducing costs in areas such as paper processing, paper storage, printing, and distribution. Is significantly more affordable than most enterprise content management solutions, customization and integration requirements are minimal.
Alchemy 8.0 Suite Features at a Glance
Input Modules
Imaging – scanning, OCR, barcode recognition Email archiving – Exchange and Outlook
COLD/ERM processing – statements and reports
Microsoft Office addins
PDF file conversion and indexing
CAD file indexing – DWG, DWF, DGN
Windows Explorer drag and drop
Integration to leading capture products
Repository Management
Content management server
Integrated document management
Records management
Security management
Archive and storage management
Output Options
Web publishing
CD/DVD publishing
LAN/WAN access
Portal integration
Enterprise application integration
Special Configurations
(available in select markets)
Workflow solutions
High volume computer output
Small office edition
We are the Alchemy distributor for Thailand. For further information please contact with our
sales department at:
Bangkok phone number +66 (2) 401 9255
e-mail:
sales@

null

nsasia.co.th
or visit the
Alchemy
website.